Version 5.64 – 6th November 2013 "Trap Upgrades"


Reworked traps

✔ Sick of puny bombs? Upgrade all of your explosive traps to blow up your foes big time!

✔ Even sicker of constantly replacing your traps? Traps now stay put after use, and can be fully re-armed with a single button!

✔ Level 1 Giant Bomb is now much cheaper, though with a slightly decreased damage radius that can be upgraded

✔ Bomb and Giant Bomb explode faster after being triggered

✔ Seeking Air Mine and Air Bomb trigger radius has been decreased

✔ Seeking Air Mines now cost Gold instead of Dark Elixir

Tier 1 terror in Town Hall 10

✔ Level 12 Archer Towers: stylish, deadly and oh so sharp

✔ Level 6 Goblins: never forget your wallet again, nor anyone else's

Unquenchable spells

✔ Get your spells in a snap! Spell factory boosting is now only 20 gems for 4 hours of boosting

✔ Spells are now created with Elixir instead of Gold

Clan and Interface improvements

✔ Players who are kicked out of or rejected from clans are automatically banned from that clan for 24 hours

✔ Tapping the active tab in the Inbox, Chat, Clan, Leaderboard, League or Search view will automatically scroll it to the top

Balance tweaks

✔ Slightly increased hitpoints for level 4 Dragon

✔ Slightly increased hitpoints and damage for level 6 Giant and level 4 P.E.K.K.A

✔ Slightly decreased hitpoints for Hog Riders

✔ Upgrade time reduced for most Archer Tower and Wizard Tower levels
Version 5.2 – 30th September 2013 "Village Edit Mode"
Clash of Clans now officially supports iOS 7.
Brand new village edit mode
Clear the clutter! Pick up all buildings and Walls at once and design your village from a clean slate.
Quick and precise building placement by dragging from inventory.
Place many Walls at once by selecting a wall piece, then dragging along the wall guide markers.
Edit Mode is unlocked after you reach Town Hall level 4.
Halloween scares
Can you find all the tricks and treats? You might be shocked!
Boogeymen at work: for a time, Spell Factory boosting is vastly longer and for only 1 gem!
Mortar mayhem
Pummel your foes with the level 8 Mortar.

Clan improvements
New troop request indicator in Clan chat: tap the indicator to scroll down to the latest pending troop request.
Changed Elder Kick cooldown to be 20 minutes.
Balance tweaks
Many smaller fixes and tweaks!
Version 4.120 – 27th August 2013 "Player Profile"
Brand new Player Profile feature
See XP level, league badge and trophy count all in one place.
Includes achievement progress, clan status, league wins and troop donations.
Hog Rider rework!
Damage increased: the Hog Rider now packs a heavier punch with his sledge hammer!
Hogs now have personal trainers to get them in jumping shape, reducing Hog Rider training time.
New spell, unit and building levels
New clan features
Trophy requirement to join a clan can now be up to 3,600 trophies.
Added cooldown for Elders kicking out Clan Members
Three of the most challenging, most rewarding achievements yet!
League All-Star: push your league progress to the limit and earn our highest ever gem rewards!
Firefighter: destroy the dreaded Inferno Towers and get handsomely rewarded.
Interface Improvements:
Replay sharing improved: shared replays now show loot, trophies and can include a custom message.
Achievement progress is now tracked even after an achievement is fully completed.
Chat can be scrolled all the way to the top by clicking on the tab above it.
Game Balance
Many smaller fixes and tweaks!
[Taken from the v4.120 update item on the Supercell announcements forum.]
Hidden Changes:
2013-08-26

– New Update coming any day! Here are the sneak peeks.
Coming Soon! Wizard Level 6, now with more "fire" power! What do you think of his sweet, stylish robes?
Sneak peek #1: Wizard Level 6:
Sneak peek #1A: Wizard Build Time 10>8 minutes
You asked for it, you got it! Coming soon: Replay sharing is getting a major power up! How do you like the blue button?
Sneak Peek #2A: Replay Cool down Glitch FIXED!!!
Sneak Peek #2: Replay Sharing POWER UP!!!
Chief, what do these three things have in common? League All-Star, Firefighter and X-Bow Exterminator. Yes, they're new Achievements!
Sneak Peek #3: Three new Achievements
Sneak Peek #3A: Total worth 4900 gems
Big news Chief: League Reward Increase coming soon! Plus a dark secret to boot! Isn't more loot the best???
Sneak Peek #4: League Reward Increase!!!
Sneak Peek #4A: Besides the gold/elixir shown in the graphic, there are some Dark Elixir increases made as well!
Version 4.74 – 29th July 2013 "The Witch"
New unit: the Witch! Skilled in the dark art of necromancy, the Witch reanimates the skeletons of dead warriors. Commanding her undead horde, she's a fearsome sight in battle!
Dark Barracks level 5 upgrade available, unlocks the Witch
Knock down immovable objects with the unstoppable force of level 6 Wall Breaker!
Share your coolest battle replays with your clan members in clan chat!
You can now temporarily mute a player in global chat. Their messages won't be displayed on your screen
Top Players leaderboard now displays "Attacks Won" and "Defenses Won" statistics, similarly to League rankings
Your opponent's name and clan are now visible during a replay
Decreased Hog Rider's housing space requirement from 6 to 5
Increased Valkyrie's attack damage (all levels)
Decreased Valkyrie's training cost (levels 1, 2 and 3)
Decreased the upgrade cost of Dark Barracks (levels 2, 3 and 4)
Many other small tweaks and fixes
Version 4.14 – 23rd May 2013 "Town Hall 10 – the Fiery Fortress"
Introducing Town Hall level 10 – the Fiery Fortress
Brand new defensive building: Inferno Tower!
The Inferno Tower shoots a jet of flame that burns through even the thickest armor
The flame takes a while to heat up, making it most effective against the biggest and baddest troops
Stop Heroes, P.E.K.K.As and Golems in their tracks, and shoot Dragons out of the sky!
Be careful: the Inferno Tower can be overwhelmed by a swarm of smaller targets
Unlock powerful new upgrades with Town Hall level 10: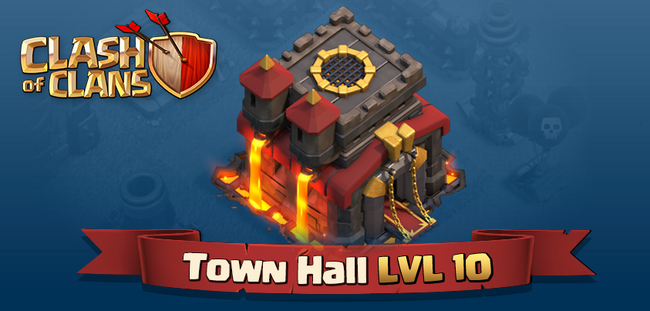 Watch replays of your attacks
See a log of your attack history with a record of loot and trophies captured
Show your most dominant victories to friends and family
Analyze your toughest fights and improve your skills
Level 8 Laboratory: better, faster and stronger than ever!
Unleash the ancient Red Dragon (Dragon level 4)
Rock on with Golem level 5
Support the troops with Healer level 4

Interface improvements
Chinese language setting is now available
Hugely expanded keyboard support. Write in any language!
Smileys and other emoji characters supported in chat! Add the special Emoji keyboard in your device settings (General > Keyboard > Keyboards > Add New Keyboard).
Quickly browse through Barracks, Dark Barracks and Spell Factory screens by tapping arrows
Number of clan troops received is now shown in addition to the number of troops donated
The center of your village is now marked with a plaque
Personal breaks enforced for players who stay continuously in-game for very long periods of time
Balance tweaks
Also many small bug fixes and tweaks!
[Taken from the Supercell forum.]
17th April 2013 "Leagues" – Version 3.124
Introducing Leagues: compete in your own division!
Joining a League is easy: just own 400 trophies or more!
Get a Loot Bonus out of every victory just from being in a League!
Loot Bonus increases the higher you climb in the Leagues
If demoted from Bronze III, you lose any league ranking
League levels
| Level | Trophy Range | Demotion if below | Promotion if above | Win Bonus  | Win Bonus  | Win Bonus  |
| --- | --- | --- | --- | --- | --- | --- |
| Bronze III  | 400 – 499 | 300 | 500 | 400 | 400 | N/A |
| Bronze II  | 500 – 599 | 450 | 600 | 500 | 500 | N/A |
| Bronze I  | 600 – 799 | 550 | 800 | 750 | 750 | N/A |
| Silver III  | 800 – 999 | 700 | 1,000 | 1,100 | 1,100 | N/A |
| Silver II  | 1,000 – 1,199 | 900 | 1,200 | 1,700 | 1,700 | N/A |
| Silver I  | 1,200 – 1,399 | 1,100 | 1,400 | 2,500 | 2,500 | N/A |
| Gold III  | 1,400 – 1,599 | 1,300 | 1,600 | 3,800 | 3,800 | N/A |
| Gold II  | 1,600 – 1,799 | 1,500 | 1,800 | 5,700 | 5,700 | N/A |
| Gold I  | 1,800 – 1,999 | 1,700 | 2,000 | 8,500 | 8,500 | N/A |
| Crystal III  | 2,000 – 2,199 | 1,900 | 2,200 | 13,000 | 13,000 | N/A |
| Crystal II  | 2,200 – 2,399 | 2,100 | 2,400 | 19,000 | 19,000 | 100 |
| Crystal I  | 2,400 – 2,599 | 2,300 | 2,600 | 29,000 | 29,000 | 200 |
| Master III  | 2,600 – 2,799 | 2,500 | 2,800 | 43,000 | 43,000 | 300 |
| Master II  | 2,800 – 2,999 | 2,700 | 3,000 | 65,000 | 65,000 | 400 |
| Master I  | 3,000 – 3,199 | 2,900 | 3,200 | 80,000 | 80,000 | 500 |
| Champion  | 3,200+ | 3,100 | N/A | 100,000 | 100,000 | 600 |
New unit, defenses and building upgrades
Clan improvements
Clan Leader is now able to send messages directly to Clan Members' inboxes
Chat message formatting overhauled
Clan tournament length increased to two weeks, reward doubled
Troop donation statistics now reset every other week
Clan troop donation information is now visible to all players, not just Clan members
Usability improvements
If Clan Castle has space for more troops, "Request" message displayed on top of it
Added option for rotating a Wall section
Added confirmation dialog when speeding up unit and spell upgrades
Attack notification improved for players playing with multiple devices
Balance tweaks
Possible Updates
Some of the more frequent ideas which have not been ruled out by Supercell:
Clan vs Clan wars
Dueling arena/Challenge battles/Simulator/Sandbox (Attack friends)
Improve in-game communication
Online/Last online status
Easier way to rearrange/readjust village
Village construction mode / saving layouts
Player search function
Blacklist/Ban specific users from your own clan
Automated reinforcement requests/trap-bomb replacement upon successful defense
Specific troop type reinforcement requests and/or ability to release certain reinforcements
Way to turn on all range circles at once to check for max overlap/weak areas
Add a 2nd radius circle on Hidden Tesla for the trigger range
Ability to rearrange barracks troop queue without removing/re-adding
Add an attack battle log similar to defense battle log
These ideas have not been ruled out by Supercell, but are NOT scheduled to be worked on at this time:
More leadership roles/tiers
Dueling Arena/Challenge Battles/Simulator/Sandbox
Increase clan size to 100
Customizable clan flag/symbol
Save attack replays as well as defense
More automation/control over troop builds (build to order/unlimited production for example)
Increase replay duration beyond last 4 – at least since last logon, perhaps last 2 days
Impossible Updates
These ideas have been ruled out (or negated or cancelled) by Supercell.
Ability to change village name
Player search feature
Donating resources or gems to other players
An exchange building to convert elixir to gold and vice-versa
Assigning multiple builders to one build/upgrade
Previous Updates
Ideas from users that have been implemented:
Defense replays
Army Camp troops surviving battles
Message displaying when someone leaves/is kicked from clan
Trophy limits on clan applications
Gem usage confirmation
Small shields after maintenance and disconnects
Many of the combat balances are due to user input
Matchmaking queue
Army Camp storage managed as a whole instead of per camp
Barracks queue information
Clan Search
Global chat moderation
Trophies to be lost in match screen
Broader range of trophies available to be won per match
Troop donation statistics
Add a notification for Army Camps full
See Version History for full details of what was released when.
Android Version
Supercell is focusing on updating Clash of clans ios version and have not intention of making an android version of the game.
[Source: Clash of Clans Wiki]
http://clashofclans.wikia.com/wiki/Clash_of_Clans_Wiki